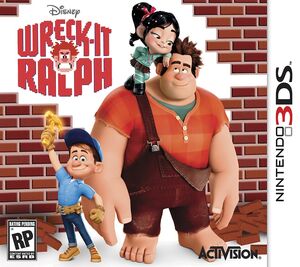 Wreck-It Ralph is a video game adaptation of the Disney film of the same name for Nintendo 3DS, as well as Nintendo DS and Wii. Co-published by Disney Interactive and Activision, it was released October 30, 2012. [1]
Gameplay
The game is a side-scrolling platformer in which the player controls the main characters, Ralph and Fix-It Felix. [2] [3]
Gallery
Videos
References
↑ http://www.gameinformer.com/b/news/archive/2012/06/25/disney-activision-announce-wreck-it-ralph-game.aspx
Ad blocker interference detected!
Wikia is a free-to-use site that makes money from advertising. We have a modified experience for viewers using ad blockers

Wikia is not accessible if you've made further modifications. Remove the custom ad blocker rule(s) and the page will load as expected.