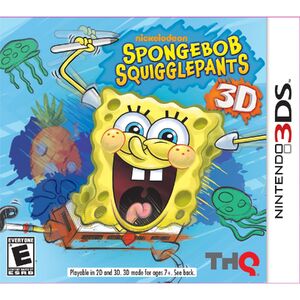 SpongeBob Squigglepants is a game for the Nintendo 3DS, and the first SpongeBob SquarePants video game in 3D. There is also a Wii version available that utilizes the uDraw tablet.
Gameplay
Reception
The game received mixed reviews, receiving a score of 69.83% as of June 22, 2011. Dave Rudden of GamePro gave the game 3 stars, stating "THQ and Wayforward Technologies both deserve some credit for making a game that feels as close to a first-party effort as anything seen on the 3DS yet, as SpongeBob SquigglePants is the closest any game has ever come to matching the WarioWare formula. Unfortunately, the game's lack of new ideas, content, and worthwhile 3D effects sap any value out of this sponge."
Gallery
References
Ad blocker interference detected!
Wikia is a free-to-use site that makes money from advertising. We have a modified experience for viewers using ad blockers

Wikia is not accessible if you've made further modifications. Remove the custom ad blocker rule(s) and the page will load as expected.