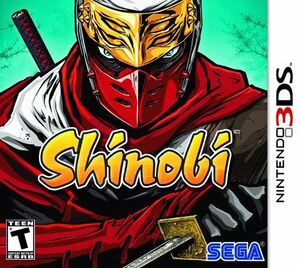 Shinobi (also known as Shinobi 3D to distinguish it from other titles) is a video game for the Nintendo 3DS developed by SEGA, and is an installment in the Shinobi series.
The game, which was to originally be released in September but was delayed due to 3DS hardware sales, was released November 11, 2011 in Europe, November 15 in North America, and November 17 in Japan. [1] [2] The game was revealed in the June 2011 issue of Nintendo Power, along with Sonic Generations. [3]
Gameplay
Players control Jiro Musashi in arcade-style gameplay; similar to the original 2D games of the series. The game typically plays in a 2.5D sidescroll fashion, using 3D graphics. Although the game is primarily controlled with buttons, there are minigames that make use of the touch screen.
Reception
Gallery
References
Ad blocker interference detected!
Wikia is a free-to-use site that makes money from advertising. We have a modified experience for viewers using ad blockers

Wikia is not accessible if you've made further modifications. Remove the custom ad blocker rule(s) and the page will load as expected.