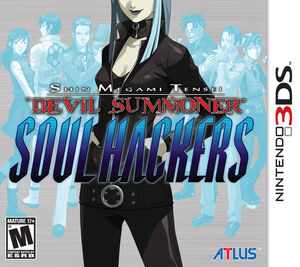 Shin Megami Tensei: Devil Summoner: Soul Hackers is a game for the Nintendo 3DS and an enhanced port of Devil Summoner: Soul Hackers, originally released for the Sega Saturn and PlayStation only in Japan. A trailer for Shin Megami Tensei IV is included in the Japanese package, whereas first-print copies of the North American release came with a music CD. [1] [2] Published by Atlus, the game was released August 30, 2012 in Japan and April 16, 2013 in North America. [3] [4] It will be released September 20 at retail and September 25 on the Nintendo eShop in Europe, published by NIS America. [5]
Gameplay
The game has been improved with a new opening animation, shorter load times, animations for battles, and full voice over work. [6]
Reception
Gallery
Videos
References
External Links
Ad blocker interference detected!
Wikia is a free-to-use site that makes money from advertising. We have a modified experience for viewers using ad blockers

Wikia is not accessible if you've made further modifications. Remove the custom ad blocker rule(s) and the page will load as expected.