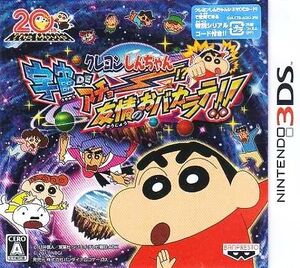 Crayon Shin-chan - Uchuu de Achoo!? Yuujou no Oba-Karate!!, otherwise known as Shin Chan 3D, is a platformer for the Nintendo 3DS. Based on the Crayon Shin-Chan anime series and developed for its 20th anniversary, the game was released on December 1, 2011 in Japan. [1] [2]
Gameplay
Reception
Gallery
References
↑ http://www.siliconera.com/2011/10/01/shin-chans-3ds-game-has-brings-his-infamous-butt-dance-into-the-third-dimension/
Ad blocker interference detected!
Wikia is a free-to-use site that makes money from advertising. We have a modified experience for viewers using ad blockers

Wikia is not accessible if you've made further modifications. Remove the custom ad blocker rule(s) and the page will load as expected.