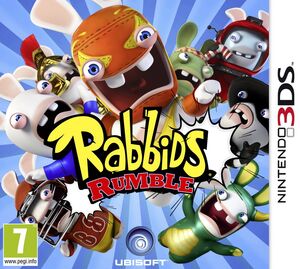 Rabbids Rumble is an upcoming game for the Nintendo 3DS, and the second Rabbids title on the system after Rabbids: Travel in Time 3D. Published by Ubisoft, the game will be released November 2012. [1]
Gameplay
The game consists of traveling through seven worlds and engaging in turn-based battles in order to capture over one-hundred Rabbids. There will also be a multiplayer mode, mini-games that use both the 3D and augmented reality features of the 3DS, as well as StreetPass and SpotPass support. [2]
Gallery
References
Ad blocker interference detected!
Wikia is a free-to-use site that makes money from advertising. We have a modified experience for viewers using ad blockers

Wikia is not accessible if you've made further modifications. Remove the custom ad blocker rule(s) and the page will load as expected.