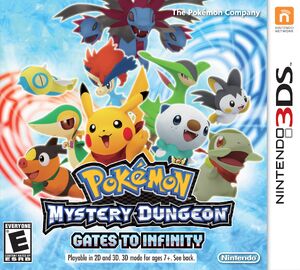 Pokémon Mystery Dungeon: Gates to Infinity is a dungeon crawler for the Nintendo 3DS. The third Pokémon game on the system, it is the sixth installment in the Pokémon Mystery Dungeon spin-off series.
The game was first announced in a September 2012 issue of Japanese magazine CoroCoro. [1] [2] Developed by Chunsoft and published by Nintendo, it was released November 23, 2012 in Japan and March 24, 2013 in North America both at retail and on the Nintendo eShop, and will be released May 17 in Europe and May 18 in Australia. [3] [4] [5] [6]
Gameplay
Reception
Gallery
Videos
References
External Links
Ad blocker interference detected!
Wikia is a free-to-use site that makes money from advertising. We have a modified experience for viewers using ad blockers

Wikia is not accessible if you've made further modifications. Remove the custom ad blocker rule(s) and the page will load as expected.