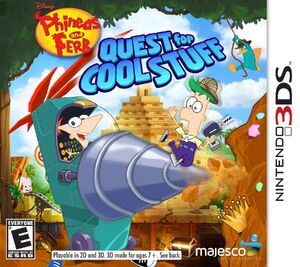 Phineas and Ferb: Quest for Cool Stuff is an upcoming platformer for the Nintendo 3DS based on the Disney Channel series, Phineas and Ferb. Developed by Behaviour Interactive and published by Majesco Entertainment, it was released August 13, 2013.
Gameplay
The game has two modes: Exploration Mode, where you play as Phineas or Ferb and travel around in their All-Terrain Transformatron vehicle and explore various locations, such as an ancient lost temple, underwater caverns, and the surface of the moon, and Action Mode, where you play as Agent P and battle Dt. Doofenshmirtz. [1]
Gallery
References
External Links
Ad blocker interference detected!
Wikia is a free-to-use site that makes money from advertising. We have a modified experience for viewers using ad blockers

Wikia is not accessible if you've made further modifications. Remove the custom ad blocker rule(s) and the page will load as expected.