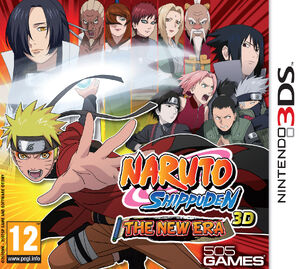 Naruto Shippūden 3D: The New Era (known in Japan as Naruto Shippuden: Ninrittai Emaki! Saikyou Ninkai Kessen!!) is a side-scrolling adenture video game based on the Naruto: Shippuden anime series.
Developed by Tomy and and published by 505 Games, the game was released March 31, 2011 in Japan, June 24 in Europe, and June 30 in Australia, with a yet to be announced release date for North America. [1]
Gameplay
The title starts off with Naruto training on Mount Myōboku, soon after his training he is called back to Konoha by Kakashi Hatake, When he arrives Naruto finds out that Tsunade has cancelled the pact with Sunagakure and the hidden villages all seem to be about to go to war.
Reception
Gallery
References
Ad blocker interference detected!
Wikia is a free-to-use site that makes money from advertising. We have a modified experience for viewers using ad blockers

Wikia is not accessible if you've made further modifications. Remove the custom ad blocker rule(s) and the page will load as expected.