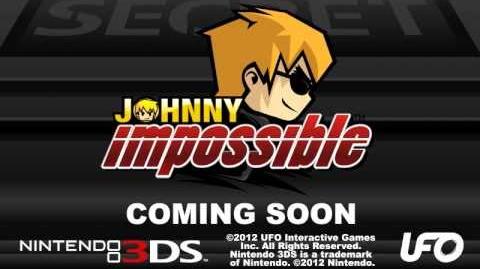 Johnny Impossible is an side-scrolling stealth platformer for the Nintendo 3DS, to be released through the Nintendo eShop. It is the third game in the Johnny series, following Johnny Kung Fu and Johnny Hotshot. Developed and published by UFO Interactive, it will be released December 27, 2012.
Gameplay
Mr. Wang has a super-laser mounted on a satellite in space, aiming to destroy Solid City! Players find and use all the tools at Johnny's disposal to infiltrate Mr. Wang's facilities, by sneaking past the security, avoiding traps, and confronting enemy robots to save the city! [1]
Gallery
References
Ad blocker interference detected!
Wikia is a free-to-use site that makes money from advertising. We have a modified experience for viewers using ad blockers

Wikia is not accessible if you've made further modifications. Remove the custom ad blocker rule(s) and the page will load as expected.