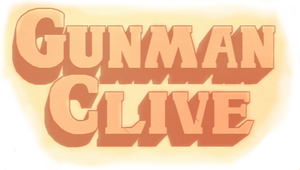 Gunman Clive is a sidescrolling action game for the Nintendo eShop, released through the Nintendo eShop. Developed and published by Hörberg Productions, it was released December 20, 2012 in Europe and January 3, 2013 in North America. [1]
Gameplay
In the year of 18XX, the west is overrun by thugs and outlaws. A group of bandits have kidnapped Mayor Johnson's daughter and are spreading havoc across the land. Players control Gunman Clive and jump and shoot their way across diverse and challenging levels and fight massive bosses to bring order to the west and save the girl. [2]
Gallery
Videos
References
External Links
Ad blocker interference detected!
Wikia is a free-to-use site that makes money from advertising. We have a modified experience for viewers using ad blockers

Wikia is not accessible if you've made further modifications. Remove the custom ad blocker rule(s) and the page will load as expected.