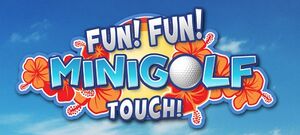 Fun! Fun! Minigolf TOUCH! is a mini-golf game, released for the Nintendo 3DS exclusively through the Nintendo eShop, and a sequel to Fun! Fun! Minigolf for WiiWare.
Developed and published by Shin'en Multimedia, it was released in Japan, and in North America, Europe, and Australia on March 8th, 2012. [1]
Gameplay
The game allows the player to control their Mii, and play a game of mini-golf in the America, Asia and Europe Cups. There are 81 holes, 9 environments, and 9 trick shot courses to play on. [2]
Gallery
References
Ad blocker interference detected!
Wikia is a free-to-use site that makes money from advertising. We have a modified experience for viewers using ad blockers

Wikia is not accessible if you've made further modifications. Remove the custom ad blocker rule(s) and the page will load as expected.