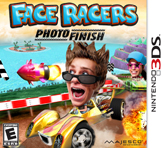 Face Racers: Photo Finish
is a 3D racing game developed for the
Nintendo 3DS
by game publisher Renegade Kid.
Gameplay
The gameplay is similar to most games in the racing genre but includes a unique hook to take a picture of yourself using the Nintendo 3DS Camera and place an avatar of yourself into the game. Car customization and avatar customization are also key modes within the game. The final version of the game was released on November 29th, 2011 in North America only. [1]
Reception
In their September 2011 issue, Nintendo Power awarded the game a very low score of a 4.0 saying that "[the] generic powerups, attrocious graphics, and an abundance of recycled textures certainly don't help the game's case." [2]
References
↑ http://192.168.3.18:81/cgi/block.cgi?URL=http://www.ign.com/images/games/face-racers-photo-finish-3ds-77779/3538264&IP=10.51.21.197&CAT=GGAMES&USER=education\\DEFAULT\\media_1551&CE=0
Ad blocker interference detected!
Wikia is a free-to-use site that makes money from advertising. We have a modified experience for viewers using ad blockers

Wikia is not accessible if you've made further modifications. Remove the custom ad blocker rule(s) and the page will load as expected.