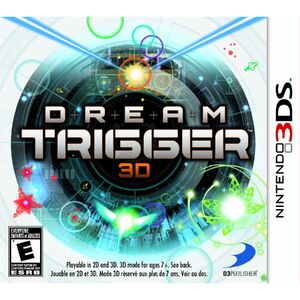 Dream Trigger 3D is a game for the Nintendo 3DS.
Gameplay
Dream Trigger 3D showcases the wow factor of the 3DS like no other game. A stunning mixture of explosive graphics and nonstop action, it is a signature shooter for the system. Play as a 'fixer of dreams', turning nightmare landscapes into gorgeous dreamscapes in this must-have visual masterpiece for new 3DS owners. [1]
Gallery
References
Ad blocker interference detected!
Wikia is a free-to-use site that makes money from advertising. We have a modified experience for viewers using ad blockers

Wikia is not accessible if you've made further modifications. Remove the custom ad blocker rule(s) and the page will load as expected.