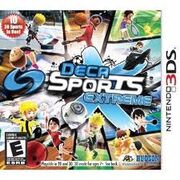 Deca Sports Extreme is a sports games for the
Nintendo 3DS
and is developed by Hudson Soft. The game was released on April 28th 2011 in Japan, June 9th 2011 in Europe, and September 20th 2011 in North America.
[1]
Gameplay
Similar to its Wii predecessor, the game includes a variety of sports based minigames including tennis, ice hockey, basketball, and bowling. See trailer below for more details on the different games.
Reception
Upon release, Deca Sports Extreme received relatively mediocre reception. Nintendo Power gave the game a 5.0 out of 10, and claims that "[it's] fun at first, but it won't hold your interest long enough to justify spending $40." GameSpot criticized the game's replayability and overall enjoyability and bestowed a 3.5 out of 10 overall score upon the game. [2]
All Review Scores

| | |
| --- | --- |
| Publication | Overall Score |
| GamePro | 7.0 |
| NintendoWorldReport | 6.0 |
| Nintendo Life | 5.0 |
| Nintendo Power | 5.0 |
| Modojo | 4.0 |
| GameSpot | 3.5 |
thumb|left|361px|Deca Sports Extreme Gameplay Trailer
References
Ad blocker interference detected!
Wikia is a free-to-use site that makes money from advertising. We have a modified experience for viewers using ad blockers

Wikia is not accessible if you've made further modifications. Remove the custom ad blocker rule(s) and the page will load as expected.