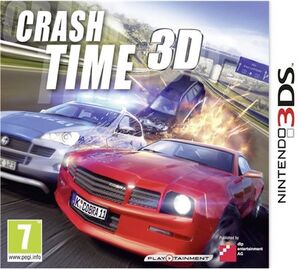 Crash Time 3D is an upcoming racing game for the Nintendo 3DS, and will be released on April 6, 2012.
Gameplay
Crash Time 3D is a burnout-like racing game is set in "a completely open world environment" and has "fully interactive and destructible surroundings". There is an ongoing storyline throughout the game and five different modes:
Campaign
Single Mission
Time Attack
Crash Haste – Stop the criminals.
Rush Hour – Race through the traffic.
Gallery
References
Ad blocker interference detected!
Wikia is a free-to-use site that makes money from advertising. We have a modified experience for viewers using ad blockers

Wikia is not accessible if you've made further modifications. Remove the custom ad blocker rule(s) and the page will load as expected.