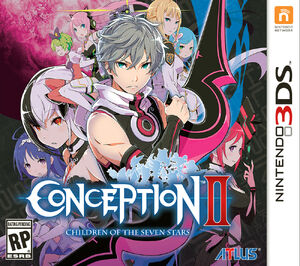 Conception II: Children of the Seven Stars is a role-playing game for the Nintendo 3DS. It is the sequel to Conception, which was released in Japan only for PlayStation Portable in 2012. It was developed and published by Spike Chunsoft, and released August 22, 2013 in Japan. It was released April 15, 2014 in North America and will be released during Q2 2014 in Europe, published by Atlus. [1] [2]
Gameplay
Reception
Gallery
Videos
References
External Links
Ad blocker interference detected!
Wikia is a free-to-use site that makes money from advertising. We have a modified experience for viewers using ad blockers

Wikia is not accessible if you've made further modifications. Remove the custom ad blocker rule(s) and the page will load as expected.