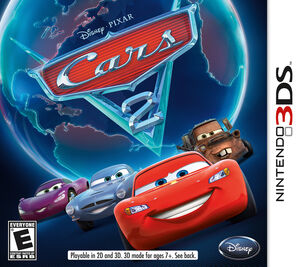 Cars 2: The Video Game is a racing game for the 3DS, based on the not so well recieved Disney Pixar film Cars 2. The game was released on November 1, 2011. [1]
Gameplay
20 different characters are playable, such as Mater, Lightning McQueen and the newly introduced Finn McMissile and Holley Shiftwell. The game supports up to 4 players using multi-card wireless play. Bonus in-game content can be unlocked through communication with nearby Nintendo 3DS owners using StreetPass. [2]
Reception
Alike from the movie release, the game recieved mixed to negative reviews. Spazio Games gave it the negative score of 68, saying "Cars 2 is a title that fits the target to which it refers, bestowed with a good gameplay. A shame for the almost complete lack of online features." [3]
References
Ad blocker interference detected!
Wikia is a free-to-use site that makes money from advertising. We have a modified experience for viewers using ad blockers

Wikia is not accessible if you've made further modifications. Remove the custom ad blocker rule(s) and the page will load as expected.