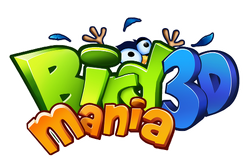 Bird Mania 3D is an action game developed and published by Teyon for the Nintendo eShop. The game was released in North America on May 3, 2012 and in Europe on May 17, 2012.
Gameplay
In the game, the player controls a bird named Mojo. The player controls Mojo as he soars through the sky to Africa to catch up with his flock while dodging obstacles like trees and bees. The player must keep Mojo from harm for as long as possible. The game has over 20 achievements and extras to unlock.
Gallery
Video
References
External Links
Ad blocker interference detected!
Wikia is a free-to-use site that makes money from advertising. We have a modified experience for viewers using ad blockers

Wikia is not accessible if you've made further modifications. Remove the custom ad blocker rule(s) and the page will load as expected.