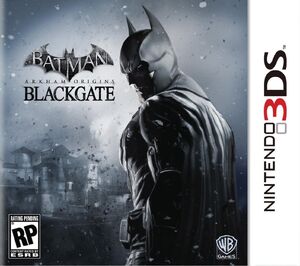 Batman: Arkham Origins Blackgate is an action platformer for the Nintendo 3DS. An installment in the Batman: Arkham series, it is set directly after the events of Batman: Arkham Origins. Developed by Armature Studio and published by Warner Bros. Interactive Entertainment, it was released October 25, 2013. [1]
Gameplay
The game takes place in Blackgate Penitentiary, where a prison uprising has occurred, and Batman arrives to stop the riot. Players control Batman, moving through side-scrolling levels, and picking up gear and taking on enemies along the way. The game's combat is similar to that of its console predecessors, having a freeflow battle system. The story is told through 2D animatics with full voice acting. [2] [3]
Characters
Batman (Roger Craig Smith)
Catwoman (Grey DeLisle)
James Gordon (Michael Gough)
Joker (Troy Barker)
Black Mask (Brian Bloom)
Penguin (Nolan North)
Bane
Solomon Grundy
Deadshot
Bronze Tiger
Amanda Waller
Black Prisoners
Joker's Henchmen
Penguin's Henchmen
Gallery
References
↑ http://nintendoeverything.com/118291/batman-arkham-origins-blackgate-first-details-and-screenshots/
External Links
Ad blocker interference detected!
Wikia is a free-to-use site that makes money from advertising. We have a modified experience for viewers using ad blockers

Wikia is not accessible if you've made further modifications. Remove the custom ad blocker rule(s) and the page will load as expected.