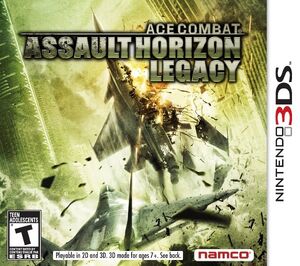 Ace Combat: Assault Horizon Legacy (Ace Combat 3D: Cross Rumble in Japan) is an action video game for the Nintendo 3DS, and a remake of Ace Combat 2.
Developed by Project Aces and published by Namco Bandai Games, the game was released November 15, 2011 in North America, December 2 in Europe, and January 12, 2012 in Japan.
Development
First impressions of the game were released by the Official Nintendo Magazine in July 2011 and were also leaked by IGN in the same month.
Gameplay
Gallery
References
Ad blocker interference detected!
Wikia is a free-to-use site that makes money from advertising. We have a modified experience for viewers using ad blockers

Wikia is not accessible if you've made further modifications. Remove the custom ad blocker rule(s) and the page will load as expected.